Reservation Instructions:
Look at the calendar below to find a day that the Hub Farm is open and available.
Complete the form linked below the calendar for your desired date. You will receive an

initial email that your request has been received

.
Once we review your request, you will receive a

second email approving or denying your request

.
Fee Structure
In order to continue to provide quality field trip experiences for students of all ages, we charge a small fee on a per-student basis. Class instructional period is up to 3 hours in length (includes time for lunch).
DPS SchoolsSelf-led (facility use only): $1.5/studentFarm-supported (Hub Farm staff facilitated): $3/student
*Interested in visiting the Hub Farm more than once in a school year? Email ashley@thehubfarm.org to discuss a discount for recurring trips.*
Outside DPS
Self-led (facility use only): $3/student
Farm-supported: $6/student
Group tours $150
Cancellation Policy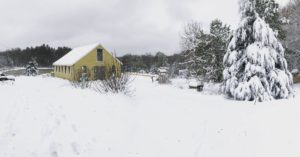 School Cancellations: If the school must cancel a scheduled field trip, the school must contact the Hub Farm (dpshubfarm@gmail.com) at least one week (7 days) prior to the scheduled date of the trip. Schools may reschedule if there is availability.
Hub Farm Cancellations: Field trips will always be cancelled when DPS closes school or calls an early release or delay. In the case of adverse weather conditions (including but not limited to snow, very cold temperatures, heat advisories, thunderstorms, heavy rain, and other dangerous site conditions), the Hub Farm may cancel the field trip. Cancellations due to adverse weather and site conditions will be made by 7am the day of the scheduled trip (we prefer to make decisions the day before). Schools will then be given the opportunity to reschedule if possible.
Specific cancellation thresholds:
Snow: over 60% chance with accumulations before the end of the field trip
Very cold temperatures: less than 32 °F during the field trip hours, OR if the teacher indicates their students will not have sufficient cold-weather gear
Rain AND cold temperatures: <50°F and >50% chance of rain during field trip hours
Heat advisories/Excessive heat warning: If there is a heat advisory (>105°F heat index) during field trip hours
Thunderstorms: If there is greater than 50% chance of storms during the field trip hours. Note: A chance of light rain does not usually impact field trips. Prepare students by asking them to bring any rain gear they have, and by using any lost & found gear. The Hub Farm may supply rain ponchos if needed.
Site Conditions: If staff deems the Hub Farm site unsafe for any other reason.
Note: given the ever-changing nature of the outdoor learning environment at Hub Farm, the staff reserve the right to cancel a field trip due to any safety concerns that may arise.