Farm operations, design, and development are overseen and facilitated by Katherine Gill, co-owner of Tributary Design and Build, Rick Sheldahl, CTE Director for Durham Public Schools, and the Hub Farm advisory team.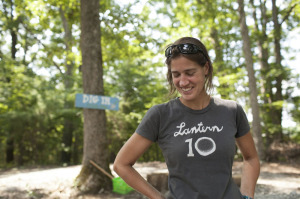 Katherine Gill, Hub Farm Project Manager. At age 13, on a walk with her dad, Katherine declared she wanted to run a school that is a farm. Since that time, Katherine has honed her passion and knowledge around land design, land use and how to engage people of all ages in the design, build and stewardship of the land. A landscape architect with extensive experience designing and building school campuses and edible gardens around Durham, Katherine became very interested in how the school system could better capitalize on its outdoor space to increase educational opportunities, better connect and provide students with healthy food and better manage the school system's land assets. Katherine first got involved with the Hub Farm in the early spring of 2012 when discussions were just starting to formulate around DPS having a farm. The work Katherine does with the Hub Farm is a dream job and she couldn't be more appreciative to work with the team of DPS staff and students and community members who are collaborating to make the Hub Farm grow.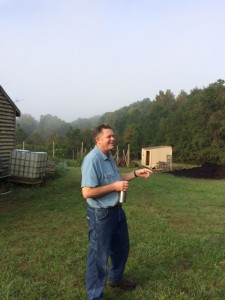 Rick Sheldahl – Director, DPS Career and Technical Services. Rick comes from the backwoods of Oregon where he attended grades 1-8 in a one-room school with his phenomenal father as his teacher.  The experience his youth provided is something that most young people today could not even imagine!  Rick spent 24 years in the Navy, four of which were at the United States Naval Academy, where he earned a BS in Electrical Engineering.  In 1994, he transferred from active duty into the reserves and started a new career in education where he has been blessed to serve children for the past 20 years in a variety of jobs, the current being Career and Technical Education Director for Durham Public Schools. Rick is a man of deep faith who believes in the worth of every child and he is thrilled to have a part in developing the DPS Hub Farm for the Durham community.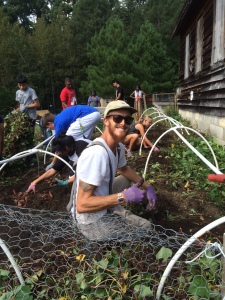 Reid Rosemond, Farmer. Reid Samuel Rosemond is a work whistler and a flower sniffer. At the Hub Farm, Reid excels at building and growing the farm and working with students. He is both an Americorps Alumni and a certified Sustainable Building Designer from the Yestermorrow Design/Build school in Vermont. Reid is also a co-founder of the Sol Food Mobile Farm project, which encourages small urban farming practice and education across the country. He also manages the supply farm for a green roof company, Xeroflor Americax, that installs living roofs on buildings internationally. Reid is an enthusiastic bike commuter and has been seen carting mulch, compost and other such things, like couches, on his bike. When introduced, it is often said, "Reid, it rhymes with seed, and he has planted many, indeed!"
Grant Ruhlman, Farmer. Grant brings a passion for outdoor education and a love and enthusiasm for working with students of all ages. Grant is hard working, meticulous, fun-loving and truly passionate about working with kids and sharing his knowledge and continuously learning more about ecological and growing processes and systems.