The Hub Farm is HIRING!! Farm Caretaker/Educational Assistant Opening!
The DPS Hub Farm is looking for a farm caretaker/educational assistant to start April 1!
Please see full job description on our website under "News", and respond to [email protected] by March 19 with the subject line "Job Application," with your cover letter and resume attached.
——–
The Durham Public School Hub Farm is run by a small team of dedicated individuals! Our staff is supported by the Career and Technical Education department at DPS along with an Advisory Board and our non-profit arm- Friends of the Hub Farm.  Meet our farm staff on your next visit to the Hub!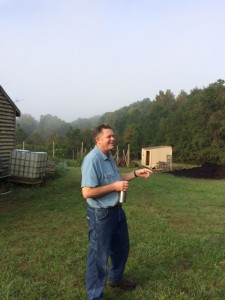 Rick Sheldahl – Director, DPS Career and Technical Services. Rick comes from the backwoods of Oregon where he attended grades 1-8 in a one-room school with his phenomenal father as his teacher.  The experience his youth provided is something that most young people today could not even imagine!  Rick spent 24 years in the Navy, four of which were at the United States Naval Academy, where he earned a BS in Electrical Engineering.  In 1994, he transferred from active duty into the reserves and started a new career in education where he has been blessed to serve children for the past 20 years in a variety of jobs, the current being Career and Technical Education Director for Durham Public Schools. Rick is a man of deep faith who believes in the worth of every child and he is thrilled to have a part in developing the DPS Hub Farm for the Durham community.
Reid Rosemond, Farmer & Educator. Reid Samuel Rosemond is a work whistler and a flower sniffer. At the Hub Farm, Reid excels at building and growing the farm infrastructure and working alongside student groups. He is both an Americorps Alumni and a certified Sustainable Building Designer from the Yestermorrow Design/Build School in Vermont. Reid is also a co-founder of Sol Food Mobile Farm, which encourages small urban farming practice and education across the country. Reid is an enthusiastic bike commuter and has been seen carting mulch, compost and other such things on his bike. When introduced, it is often said, "Reid, it rhymes with seed, and he has planted many, indeed!" Reid also works with pre-K students every week at the Durham LEAP program as a Garden Educator.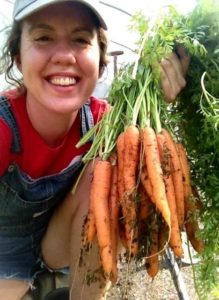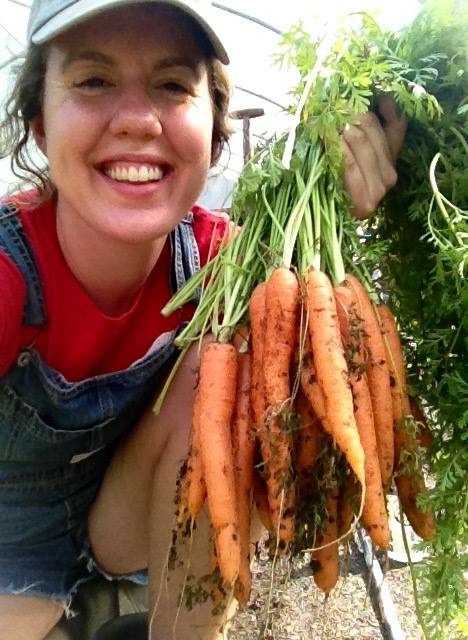 Hannah Ball-Damberg, Farmer & Educator. Hannah is a native Durhamite, and loves North Carolina. She has been a student in Durham Public Schools most of her life, at Club Boulevard Elementary and Durham School of the Arts, so returning to work with students in the school system she grew up in is a serendipitous treat! Hannah went on to study Environmental Studies and Geology at Oberlin college, graduating with a concentration in environmental education. She now serves as a lead educator and farmer at the Hub Farm, and comes with 3 years of farm experience as a full-time farmworker at Lil' Farm, among other local farms. Hannah has worked with young people in a variety of environments, including on an urban farm teaching about nutrition and growing food in Harlem, NYC; in a children's cooking class at the local YMCA in Santiago, Chile; and as a backpacking guide and counselor at the Green River Preserve, an outdoor education camp in the beautiful NC Appalachian mountains. When her hands aren't in the dirt, Hannah enjoys teaching a NC natural history class through Duke TIP, biking, running, exploring new places, hiking, cooking for friends, and fermenting all kinds of cool vegetables!
Ashley Meredith, AmeriCorps Service Member, Curriculum Development & Volunteer Coordinator. Ashley hails from the Old Dominion state of Virginia where she has spent a lot of time in the mountain forests of the Blue Ridge, the marshes of the Chesapeake Bay, and everywhere in between. Ashley graduated with a Bachelors degree in Geology and Conservation Biology from the College of William & Mary. In her summers, she has worked as a student researcher and summer camp counselor. This past summer, she worked as the Family Consumer Sciences and 4-H Intern with the Virginia Cooperative Extension doing environmental and life skills education in Arlington, VA. At the Hub Farm, Ashley coordinates volunteer workdays, manages our social media presence, and helps with field trips that come out to the farm. After farm hours, you can find Ashley out hiking/climbing, cooking, or playing volleyball!