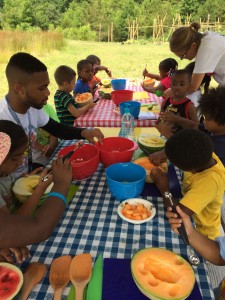 Curricula at the Hub Farm are designed to take advantage of the site itself in as
many ways as possible, and also to take advantage of the Hub Farm's development and growth process
as a learning opportunity.
The Farm setting, including fields, gardens, woods, and wetlands, affords experiential learning
opportunities for all ages and subjects. The Farm site also provides a flexible space for the
different educational models and programming of our community partners.
New curriculum development for the Hub Farm within the Durham Public Schools will
implement core curriculum standards and STEM subjects, so that applicable
teaching requirements can be met with students on the Hub Farm in addition to in the
classroom. The goal in building new curricula will be to support the classroom
teacher as much as possible while simultaneously providing students and teachers
the benefits of being outdoors.
To support the utilization of the Farm by teachers, specific programs will be
developed to introduce teachers and staff to the Farm, to the new programs being
developed, and to the principals of experiential education. Through these trainings
staff will also have the chance, based on their specific experience and perspective,
to help steer the direction of new initiatives.
Programming includes:
Class activities on site
Field trips to Farm
Staff Development
Leadership and Team Building
Workshops
Summer Programs
Afterschool Programs
Cooking Programs (Iron Chef, NHS Culinary program)
Farmstand/CSA
Health Indices Research and Evaluation
Environmental Research and Evaluation