Support Agricultural Education by Signing up for our Youth-Powered CSA and Shopping at our Farmstand!
Want to support outdoor learning in Durham and enjoy the bounty of our garden each season?
Every spring, summer, and fall season we offer an 8-week Community Supported Agriculture (CSA) membership so that YOU, our supporters, can receive regular bags of fresh, delicious produce from the Hub Farm. Not only will you be eating fresh vegetables grown by DPS students, but your membership also supports vocational experiences for six Northern High School interns, specifically two CSA interns who help harvest, wash, and pack produce for CSA bags. Proceeds go directly towards supporting, promoting and growing healthy food for students and our community.
Interested in signing up? Email hannah@thehubfarm.org to receive more information, along with details on the next upcoming membership. We will offer 12 memberships, and will increase our CSA capacity each season.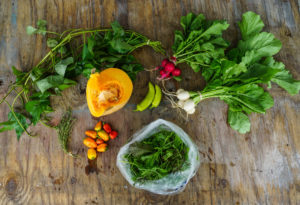 Payment and Pick-Up Details: Payment is taken in full before the membership begins..
Full share:

$160 for 8 weeks = $20 worth of veggies/week

Half share:

$80 for 8 weeks = $10 worth of veggies/week
Pick-up on Tuesdays from 3-9pm at the Durham County North Regional Library (next door to the Hub Farm): 221 Milton Rd, Durham, NC 27712
The Farm Stand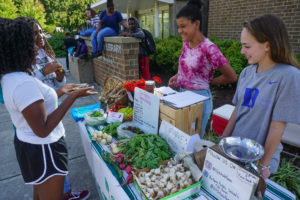 During our three growing seasons our high school interns run a farm stand in front of the North Regional Library. Generally, the farm stand is open from 4-6pm on Tuesday afternoons, but details vary according to intern availability- so stay tuned to our social media for the latest dates/hours each season! If you aren't a CSA member, want more produce, or simply want to shop fresh and local, come on out to pick up vegetables for the week!
Thank you for supporting outdoor education in Durham and eating local!
We couldn't do it without you!