Mission and Vision
The Hub Farm's mission is to improve the academic achievement and well-being of students in Durham Public Schools through experiential outdoor learning.
The Hub Farm is a 30 acre farm, forest, and aquatic outdoor learning center in Durham, NC.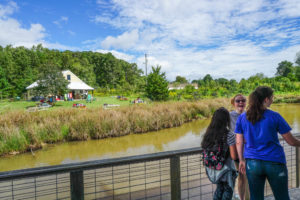 We engage students, teachers, and the Durham community in environmental education and career development.
Our diverse community network and strong institutional partnerships leverage the physical resources on the farm for the benefit of Durham's students.
The Hub Farm is a central component in a healthier school system where interdisciplinary instruction supports food awareness and outdoor experiences.
Our Farming Philosophy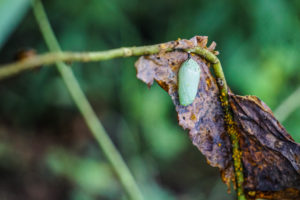 We strive to support native pollinators and our honey bee hives in all that we do on the farm, including planting cover crops, native flowering plants, and fruit trees to provide forage and habitat to our insect neighbors.
Historical Background
In late 2011, a team of educators, teachers and community members brainstormed ways to put to use 30 acres of vacant public school land behind Eno Valley Elementary School. The team coalesced around the idea of an education farm that would serve as a "hub" to connect DPS students and the community. With the support of DPS's Career and Technical Education program, the Hub Farm had its official vine-cutting launch in October 2012 at the site.
The land that the Hub Farm sits on is the ancestral land of the Shakori, Eno, Occoneechee, and Catawba people, and more generally, the Carolina Siouan. Many of these descendants live among the Catawba and Lumbee today. Before the land was owned by DPS, George Lunsford Carrington (1893–1972), was the proprietor. A generous donor to educational, medical and religious causes, Mr. Carrington donated the land to Durham County during the early 1900s. Mr. Carrington's interest in education was present throughout his life; during college he was the editor of The University of North Carolina Daily Tar Heel and published many research papers, and upon graduation he served as a principal in the Durham school system for a year before entering medical training.