As the Hub Farm grows, teacher trainings and workshops will allow educators to earn CEU credits while developing the professional skills needed to teach classroom standards through hands-on outdoor learning activities. For example, UNC Masters of Arts in Teaching students have engaged in hands-on curriculum development at the Hub Farm.
If you are a teacher and are interested in participating in Hub Farm trainings or using the Hub as a space for your own workshops, please contact us.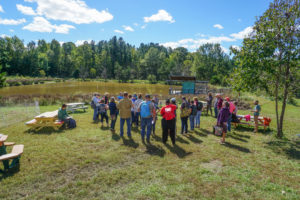 We are excited to be a part of DPS's 2018 Building Outdoor Learning in Durham (BOLD) Community Collaborative, and are committed to supporting teachers in their capacity to connect their students to outdoor learning opportunities, at the Hub and across the state.