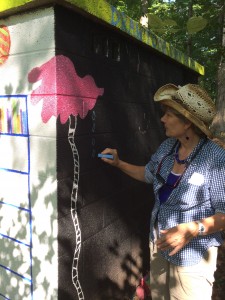 As the Hub Farm grows, teacher trainings and workshops will allow teachers to earn CEU credits while developing the professional skills (and having fun) needed to teach classroom standards through hands-on, outdoor, applied learning activities. If you are a teacher and have a specific training or workshop you would either like to lead or learn, please contact us.
In spring 2015, we plan to offer a number of teacher training opportunities, including trainings by the education coordinator from the NC Musuem of Natural Sciences. Contact us for more information.
For the last two summers, UNC Masters in Education students have engaged in hands-on curriculum development at the Hub Farm. If you are an educator looking for a great place to offer trainings, contact us! We have lots of project-based learning opportunities that you can use for your trainings.