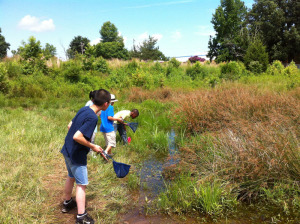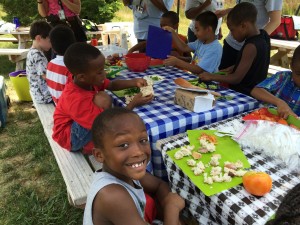 Field trips are the principle channel for serving students.  The Hub Farm site provides experiential learning opportunities to complement classroom learning at all age levels. The Hub Farm works with the school system, teachers, administrators and outside educators to provide innovative and exciting ways for students to engage and learn about all aspects of the food system, land stewardship, and the relevancy of any subject in the living world.
The diversity of natural settings at the Hub Farm makes it ideal for exploring the relationships and unique habitats of forest, field and water. Given its location within the Eno River Watershed, its cultural setting between rural and suburban/urban Durham County, its proximity to other civic institutions – a public library, Eno Valley Elementary, Carrington Middle, and Northern High School, a post office and EMS, and, its proximity to natural destinations such as Eno River State Park and Penny Bend– organizational partnerships and connections, as well as short and long-term research opportunities are abundant.
Age Groups served
Pre-K
Elementary
Middle
High School
College/University
The Hub Farm also offers opportunities for students to do independent studies, internships, and mentorship programs with professionals in the community.