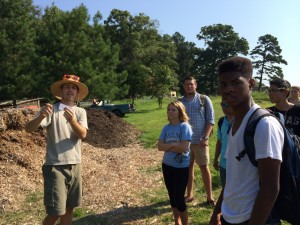 What internships are available?
We offer unpaid internships for high school students wanting to gain experience in any of the following areas.
Agriculture – Help maintain the vegetable gardens and grounds, harvest, and perform minor maintenance work on the Hub Farm facilities. As the Hub Farm is still growing, the agriculture intern will also help to plant and design new gardens.
Media and Marketing – Help in the marketing of the Hub Farm through photography, updating the Hub Farm blog/website, Twitter account, and Facebook page. Also, help generate a monthly newsletter to Hub Farm stakeholders.
After School and Summer Camp Programming – Assist with field trips, summer camps, and after school programs.
Land Stewardship – Help take inventory of the natural resources and develop nature trails at the Hub Farm.
Business Development/Sales – Help develop business plans for Hub Farm services and products.
Animal Husbandry – Help care for and grow the animals we have at the Hub Farm.
To apply:
Please send an e-mail to dpshubfarm@gmail.com with a 300-word statement of interest. The statement of interest should explain why you'd like to be an intern at the DPS Hub Farm and should tell us about your interests, passions and why you think you'd be a good fit for the Hub Farm. Recommendation letters from teachers and mentors are encouraged.  Please include whether you are applying for a fall, spring or summer internship and what your available afternoons and hours are.
Questions, please contact us at dpshubfarm@gmail.com.
We look forward to reading your applications!