What our fans are saying about the Hub Farm!

Teachers:
"I love bringing my students to the Hub Farm because they get to experience hands-on learning within nature and I get to see a side of them I don't get to see in the classroom. There's also only so much you can learn from a book." – 5th Grade Teacher
"The farmers were EXCELLENT with the kids. They allowed freedom for them to ask questions and express ideas while still keeping control on the group and providing fun and educational information!" – non-DPS Teacher
"Each session was full of wonderful experiences for the children! These were priceless as most children do not get such opportunities. The salad creation, tasting the lettuce, finding a turtle, listening to the sounds by the pond – everything was educational and fun and the farmers and teachers were phenomenal and patient." – DPS Teacher
"I thought the experience was a great enrichment to what our students have been doing in class. We did the theory and this was the practical which will cement concepts they learned. I enjoyed the cooking because kids got a chance to see that eating healthy can also be delicious. The farmers/staff were great and kept concepts age appropriate. It was a wonderful experience. I loved it!" DPS Teacher
Students:
"You are the best farm ever. Every time I go there I can feel the happiness under my feet. I love the fresh air on my face." – DPS 5th Grade Student
"This was a very fun experience. It most definitely brightened my knowledge on the farming industry and environmental engineering. I absolutely want to come back before my middle school days are over." – DPS STEM Scholar
"I learned that at the hub farm you can eat and try things out of the garden. And it is ok to eat out of the garden. And it is ok to try new things." – DPS student
"My favorite part about my internship was getting to harvest the plants. I learned so many different techniques and learned about vegetables I didn't even known existed." – DPS high school intern 
Community: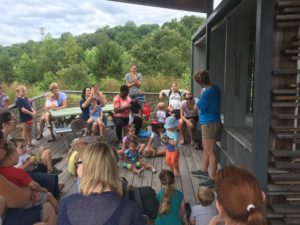 "The site is a great educational center for elementary students. The staff are amazing in adding to the school curriculum. I wish all elementary students got to visit the Hub Farm!" – DPS Parent
"The student engagement was amazing. It was definitely worth the trip." – DPS Assistant Principal
"We had such a wonderful experience! The staff were incredible! I loved that we were greeted in the parking lot and met with such kindness. I loved hearing how much fun the kids had and their new perspective on where food comes from. Thank you! :)" – Non-DPS Parent
What's YOUR favorite part about the Hub Farm?  Contact us to let us know! We love to hear from students, teachers, organizations and community members!