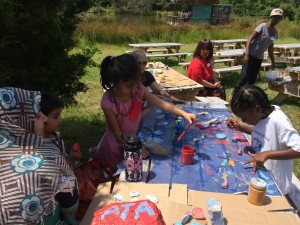 The Hub Farm includes spaces and programming for K-12, adult, and family education; spaces for new farmer incubation, a variety of gardens for food production, pollinator gardens, and community gathering spaces, including the Floating Lab.
Through experiential and hands-on activities, Hub Farm visitors explore sustainable techniques and technologies. Through food production and integration of fresh produce into the school system, Durham Public School students now have greater access to fresh food.
By linking on-farm activities to business models such as a farmstand, farmers markets, and CSA's, students build skills in entrepreneurship and the foundations for resilient careers. The trail networks and farm activities provide a range of physical activity opportunities for all visitors to the farm.