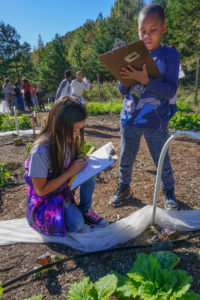 The Hub Farm offers outdoor learning for K-12, teacher, and community education. We focus on programming with the three schools within walking distance of the Hub Farm: Eno Valley Elementary, Carrington Middle, and Northern High, and are an open resource to all of DPS.
For students, we offer field trips, NC State Standard aligned lessons, after school volunteer opportunities, experiential informal learning, internships, and project-based learning.
For teachers, we offer professional development, curricular resources, and community partnerships to support capacity building in outdoor learning.
For the community, we host on-farm workshops, tours, volunteer days, and open house celebrations.